In mid-October a group of 12 AALD Members and gardeners visited a series of gardens in the Philadelphia area of Pennsylvania. Our liaisons for the trip were Jeff Jabco, Director of Grounds and Coordinator of Horticulture for the Scott Arboretum of Swarthmore College and Joe Henderson, Horticulturalist at Chanticleer College. They helped Jim Sharpe, our leader and tour organizer, to arrange the tour visits and on-site experts to meet and guide us focusing on the theme of Naturalistic Planting design.
We stayed in the beautiful village of Swarthmore located next to the Scott Arboretum at Swarthmore College. The campus and Scott Arboretum aims to delight, educate, and inspire visitors to enjoy the many benefits of horticulture. Established in 1929 by Edith Wilder Scott with a generous gift, the Arboretum displays over 3000 kinds of trees, shrubs, and vines as well as perennials, annuals and tropical plants in specialty gardens and collections integrated with the college buildings.
Image of gravel gardens at traffic Roundabout and neighbouring sidewalks.
Image of Planting Recipe with 5% Structural plants, 35% companion plants, 50% ground cover and 10 % fillers.
Jeff started our tour at the roundabout area with a detailed look at traffic islands planted in gravel that were inspired by the mixed perennial plantings of Cassian Schmidt and Bettina Jaugstetter, the dynamic plantsman and landscape architect team from Germany. We then continued onto the campus grounds to look at the elegantly designed new Dining Hall and Community Commons building, the organically managed rose garden, and the Ecoregion gardens around Singer Hall. Of particular interest to us Maritimers was the Coastal Plain-Hardwood Swamp planted with Nyssa sylvatica, Acer rubrum, Ilex verticilliata, Vaccinium, Comptonia and Myricas.
Coastal Plain- Hardwood Swamp planting by Singer Hall
Example of Interpretive signage explaining one of the five the Ecoregion plantings.
Other areas of interest were the amphitheatre designed by Thomas Sears in the 1930's, the biostream, green roofs, lawn alternatives, Porous pavement, and collection of Noble trees.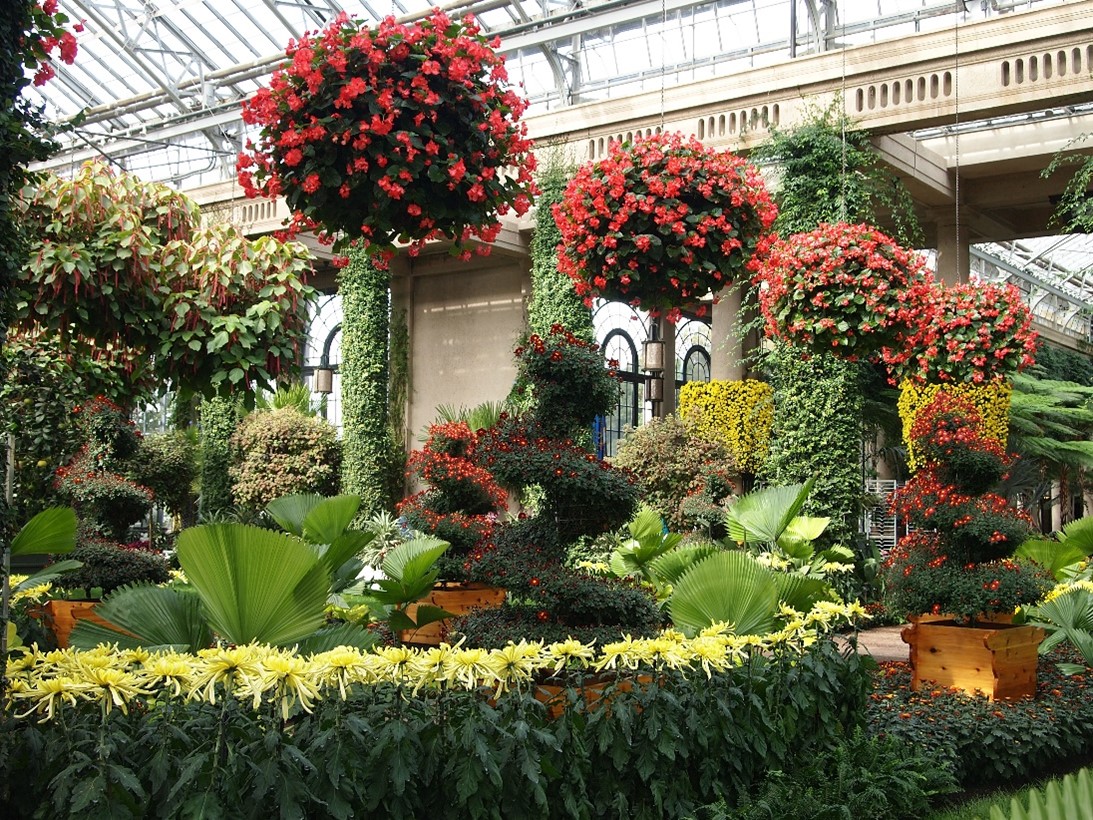 At the famous show garden of the DuPont's, we started our visit with the delightful horticultural display gardens. Longwood Gardens one of the largest and most visited botanic gardens in the US There was a Chrysanthemum show, Bonsai display, the newly renovated Orchid house, Model train garden/landscape, and a fountain show to music, but our main destination was the 86 acres of managed Meadow. Lea Johnson, in charge of Landscape Stewardship and Ecology at Longwood and Kristie Anderson, horticulturalist on the ground, met us to answer questions about the evolution and management techniques. A key concept is that for meadows at be sustainable they must have regular disturbance to stop woody species from taking over. Management techniques ranged from hand pulling invasive Stilt grass, burning biomass to the ground every 3 years, varying mowing regimes and IPM techniques to control invasive weeds.
The Mount Cuba Center is a botanic garden that highlights the beauty and value of native plants with the intention to inspire conservation. Once the private estate of Pamela and Lamott du Pont Copeland, the public garden open now spans more than 1000 acres. It features garden pathways through formal and informal gardens as well as meadows, ponds, stunning vistas, and scenic trails throughout its woodlands.
Block plantings of superb horticultural and ecological plants at entrance to visitor's center Mt. Cuba Center.
Solidago 'Golden Fleece
Mt. Cuba is recognized as a leader in native plant research and open space preservation. Mt. Cuba's Trial Garden, managed by Sam Hoadley, evaluates native plants and their related cultivars for their horticultural and ecological value. Trials run for a period of 3 years for perennials and 5 years for shrubs. Data available online are reports on Echinacea, Helenium, Phlox, Monarda, Baptisia, Coreopsis, Heuchera and aster trials.
Block plantings of superb quality native plants were located at entrance garden. Of particular interest are the Heath Aster 'Snowflake 'and Goldenrod Golden Fleece'.
We were met at North Creek Nursery by Carrie Wiles, (Marketing), Tim McGinty, (General Manager) and Arden Pontasch ( Gardener). All of our group was very impressed with their operation. Many of the plants we saw at Mt. Cuba and Swarthmore are in production here. The management team here has worked diligently to acquire SANC certification (Systems Approach to Nursery Certification). In the show garden we discussed the Lavenders, `Sensation' and `Phenomenal', the Heucheras `Guacamole' and `Magma'. We saw Germander `Pride of Georgia' used as a border plant. There was a menu of Carex including pensylvanica 'Straw Hat' and Carex woodii. Salvias included `May Night Improved' as well as `Snow Hill' and `Caradonna'. They grow Allium `millennium' and many more. There was great interest in the ability of the North Creek staff to organize shipping to Atlantic Canada.
At Chanticleer we were met by Joe Henderson, Horticulturist responsible for the Asian Woods, Bell's Wood as well as the ponds and streams. Chanticleer, a pleasure garden, is called the most romantic, imaginative, and exciting public garden in America. The garden is a study of textures and forms, where foliage transcends flowers, the gardeners lead the design, and even the drinking fountains are sculptural. It s a garden of pleasure and learning, relaxing yet filled with ideas to take home. Joe Henderson led us through the `Cook's tour'. We visited the main feature areas, had lunch in the greenhouse, had an insider's look at the carpentry and metal shops and a walk through the Rosengarten house.
At Chanticleer they strive to reduce their environmental impact. They reuse, recycle and compost. Solar panels reduce 20% of electricity. Cisterns spread over 50,0000 gallons of rainwater for irrigation. Basins release storm water. Meadows, sedges , ferns, and other lawn alternatives replace turf in some areas, and they are eliminating invasive weeds. The new paths have been surfaced with `Porous pave' . Joe discussed the use of Bio Char and Finesse GVH Soil Amendment around beds with mature trees and the use of an Air Spade to loosen soil around trees where foot traffic caused soil compaction.
A view across the Pond Garden.
Containers around Visitor's Entrance, Chanticleer.
Liatris elegans in the gravel garden
The garden has evolved greatly since opening in 1993, but still remains the estate's impressive trees and lawns. There are seven horticulturalists, each responsible for the design, planting, and maintenance of individual areas. Lisa Roper gave us a tour of her area of responsibility, the Gravel garden. Lisa is also an expert photographer. Hundreds of trees have been planted. Furniture is made from wood cut on the property. It is truly an immersive experience and a delight for gardeners and designers alike. A must see!
Brandywine Cottage is the home and garden of David Culp. David, author of two books The Layered Garden and his latest A Year At Brandywine Cottage, met us to share his meadow garden currently clothed in shades of russet and maroon. Sumac, Amsonia, Aster oblongifolius `Bluebird' and a purple Penstemon make up some of the composition. David, winner of many horticultural awards, has thousands of hellebores and a collection of 200 cultivars of snowdrops. The garden situated in a bowl shape, surrounds the lovingly maintained historic home of David, his partner Michael Alderfer and their British Bull dog. Every view in the garden is choreographed with plant textures and forms arranged in interesting arrangements with found objects. A treat for the senses. David does a monthly webinar on his garden available through Garden Design magazine.
Maroon and amber colours of the meadow
A view to innovative trough plantings in the courtyard area
At Donald Pell's garden, "Nature is bigger than I am". A native to this area of Pennsylvania, this garden surrounds his landscape design office and acts as his platform for experimentation and testing of various grasses and forbs. He also grows plants for his installations that are not readily available in the trade. Donald, a true plantsman, carefully studies and applies the concept `Right plant, plant place'. Tall plants located near the grass paths include Miscanthus giganteas , which Donald plays close attention to what plants are sterile cultivars versus those that spread through seed. Walking along the paths we saw Pycanthemum muticum, Allium 'Purple Sensation' in blocks, Allium 'Millennium', 'Summer Beauty' and 'Pink Planet', various Vernonias, Sesleria autumnalis, Molina 'Transparent', Salix alba `Britzensis' and more. Earlier plantings were in a blocked patterns, later plantings are arranged in a random style. He commented that the gardener needs to be the designer overtime. He uses no fertilizer in herbaceous plantings- as the idea is to keep the soil lean to reduce weeds. Gardeners cut the plantings down with hedge trimmers with long handles. A long handled Dutch push- pull hoe from Dewit tools was being used by the gardeners while we were touring the beds.
An establishment technique involving a bottom plow was used to turn an 18″ depth of farm field into the proposed naturalistic planting beds with the intention of promoting the rot of the existing weed seeds, rhizomes, stolons and roots found in the soil. Donald discussed the concept of `novel plant communities' that are new, ecological communities of plants that are either designed by humans and/or created by human disturbance, and climate change. His compost is prepared using the Biodynamic methods of Rudolf Steiner.