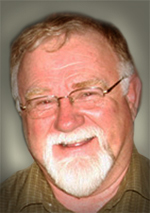 John Higgins Memorial Scholarship
John was a founding member of The Atlantic Association of Landscape Designers in 1992. He was instrumental to the development of Canada's first ever Certification Program for Landscape Designers, which was available to all designers in the Atlantic Region, and pre-empted the National Certification Program by several years. John Higgins has the legacy of being a mentor to many budding landscape designers in the Atlantic region. He was himself a designer, an educator, an encouraging plant enthusiast, and an inspiration to all of his many students over the years.

John Higgins taught at the Niagara Parks Commission School of Horticulture in Ontario for 10 years before arriving at the Nova Scotia Agricultural College (NSAC) in 1981. There he taught the Landscape and Design Program for 20 years.
Upon his retirement from NSAC, John started Landscaping/Design Consulting in Nova Scotia and took on a project working for Ron Joyce in Wallace, NS, designing and overseeing the installation of the Fox Harbo'r Golf Course and Spa, an elite resort and golf destination. At the same time, he taught short courses to the general public and industry professionals.
Upon completion of that project, John answered a call to instruct the Landscape Program at the New Brunswick Community College (NBCC) in Woodstock, NB. It was during his tenure at this college where John's long and illustrious career was cut short. He passed away in the winter of 2006, unable to finish the semester.
AALD Design Scholarship honors John Higgins'
John Higgins' dedication and enthusiasm for the Landscape Design Industry throughout his career was unfaltering, his contributions immeasurable.
It is for these reasons that AALD decided to offer a Design Scholarship for students attending the NSAC, to be dedicated in his name. It is for these reasons that NSAC has dedicated a space for a Memorial Garden in his honor.
John Higgins Memorial Garden, Agricultural Campus of Dalhousie University, Truro